Labor(s) of Love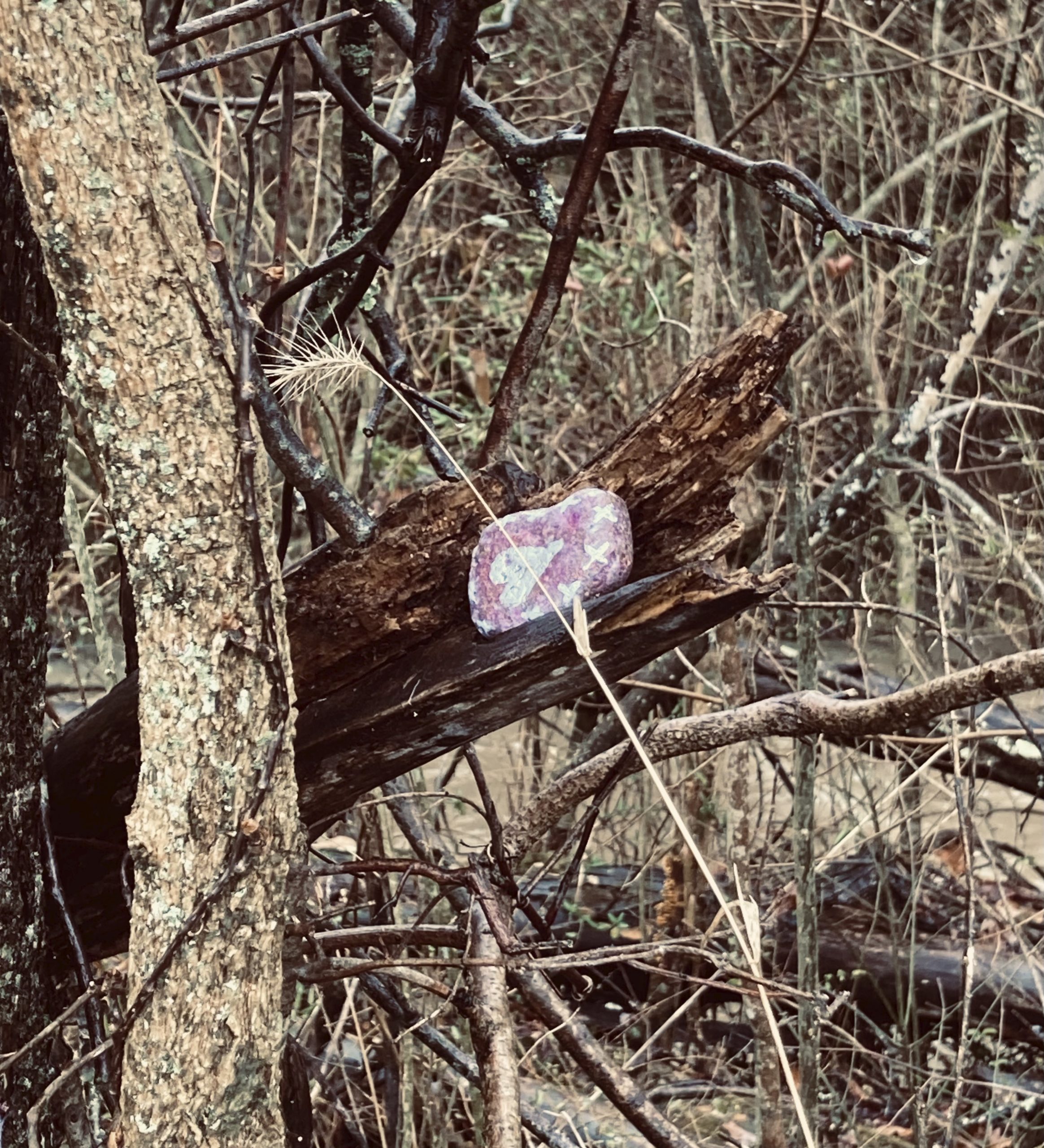 Among other things, I journey with a group of folks moving through a two-year fellowship program that I shape and steward. For the second of six COVID-calibrated weekend-long gatherings, participants were invited to come back for bits and pieces, sticks and stones, learning and unlearning—and for one another. From people to place to purpose to power: some things are working, others remain to be worked out. Along the way, this question begs for more than my attention: What is fellowship?
Almost halfway through their shared experience, this group is exploring relations between beliefs and birthrights and bodies and burdens and blessings. Contemplating the distance between here and there, they are listening for stories and systems everywhere. A fellowship journey is many things. It is always a practice of return. Will you join me for a teaching and telling, a wisdom and way-making, a leaning in, a listening for, a loving on, and letting go? I'll lead off—heart in my hands.
In the beginning was a question: Who are you? And where are you from? In the beginning was here. It was also there. We were, too. And it was good. At the start of it all, fellows made pinch pots to mold something that carries. Two seminars later, some are holding tightly to ends both loose and loosening. The work of beginning and being and becoming demands for grasping and gasping and grappling before growth comes calling. What does it mean to make a way for the fullness of yourself and for others, too? Can you see in the work of your hands all the way into someone else's heart?
I like to think that pinch pots remind us that this thing called fellowship comes together in things that matter, and in matter, too. It is something we birth and become together. Howard Thurman once contended that hatred flourishes when there is contact without fellowship. But what is fellowship? What turns a meeting into a moment, a conversation into a convening, a stranger into a friend into a fellow? How will we know when we've arrived? And who will we keep going back for?
Striving for fellowship, I look high and low for wisdom speaking truth to people, to power, to pain, to possibility. I hear in the words of Ella Baker a call beyond any circle or commitment that understands itself as closed or complete. Hers is not a reach for accumulation, but an invitation to accountability—each and every day. Speaking at a 1974 Puerto Rico Solidarity Rally, she shared:
A nice gathering like today is not enough. You have to go back, and reach out to your neighbors who don't speak to you, and you have to reach out to your friends, who think they are making it good, and get them to understand that they as well as you and I cannot be free in America — or anywhere else where there is capitalism and imperialism — until we can get people to recognize that they themselves have to make the struggle and have to make the fight for freedom every day in the year, every year, until they win it.
Not yours or mine or even ours, but theirs. This I do / you do / we do— for the rest and reflection and reckoning and relationship found in one another, and also for these very same things we take back home to our neighbors. Not the ones we already know and love, but those we can't even imagine claiming. I believe that this gathering-in of one another is part of what it means to lead a life both humble and human.
At the core of my fellowship practice is an expansive and evolving definition of the human—of life down to the cellular level and also beyond this lived plane of existence. Reading S. Brent Plate's musings on the things through and with which so many make all different kinds of meaning, I feel how vast and varied the human experience has always been. Reflecting on the brilliance of differences big and small, I wonder what we miss by training our gaze on the proximate. What is the relationship between the local and the global? What about past and present? Between yesterday, today, and tomorrow? Between ritual and remembering? Between the living and the liberated? I read Plate reading religion to remember that senses are systems, too. I read Plate reading the order of things to honor the plenty of disorder. I also read Plate to remember to put my books down and to trust the teaching found in the doing and the making and the breaking.
If humanity matters — and it might not matter more than other (living) things — then how you and I understand ourselves in relation to those not just here, but over there might matter more. A deep commitment to the many relations that construct and constrain how we encounter and engage one another is core to a practice that is also always a process balancing being with becoming. To be in right relationship—with something, someone, some place—is a lifelong journey that pivots and prods and processes and pleads and probes. I read Edward Said and so many others reading Michel Foucault reading so many selves to remember how systems of this thing called knowledge work. I also read against the grain of my grandmother's kitchen table to remember meaning—and 'maters, too—dished up by hand. Not just who and what or where, but how we read gifts a growing understanding of yours and mine and ours. Reading and returning are entwined postures that circle back for them and theirs. What will it take to move through fury and fears and fragilities and fictions and faiths and failings to something called understanding or empathy or even fellowship?
These things—beginning, relating, returning, deepening—take time. And time isn't an even playing field either. What kind of time do you have? What kind of time will you make? And what does it take to honor that which you can share while withholding judgement for those who cannot? In the final volume of her poetic trilogy, Alexis Pauline Gumbs shares this ancestral riddle:
we promise to make time flexible, if you give us all your time.

Dub: Finding Ceremony (Duke University Press, 2020)
Living in worlds that count so many things by inhumane measure, I keep returning to this challenge. Gumbs—and the many she evokes and invokes in an intentional listening practice—seems to imply that the more time you give to things that matter, the more time will yield to those things, too. Even if the clock is always ticking, I'm not here for the glorification of the busy or for the lifting up of productivity as purpose. But I am here for time well spent. Sometimes that means recognizing that my time and yours are not the same.
If time is fluid and fickle, and perhaps unforgiving, what makes it formative? Is there a kind of place more conducive to the kind of time that teaches and tells things like the truth? I believe that the practice of fellowship requires all four directions. In this season of pandemic adaptation, I note that "we" works in all kinds of ways: on screen, via Google doc, as pixels of personhood shining across the internet. These are not just placeholders or proxies, but place itself. Across time and place, then, what does the practice of fellowship yield? What happens when rest and reflection and reckoning and relationship are both process and product? Can they hold where centers and circles do not? I believe that the order of things matters until it doesn't. I also believe that the tools with which we build and bury and burn and borrow are words that mean different things to different people. If all of this proves true—and it might not—I wonder what this work is starting to resemble or redeem or reclaim or reject or return to or repair.
The practice of fellowship extends a right hand before remembering things it keeps leaving behind; things like seeing and hearing and knowing. It also begs for a question-set calibrated to depth, to difference, to discernment. What does it take to lean into the hard and often wholly ambiguous? Which habits shift and surprise and surrender when we (re) consider the premise of questioning itself? Historian of religions Jonathan Z. Smith once teased out distinctions between questions and answers:

Questions always survive answers. First of all: There's nothing more dated, actually, than an answer… You come up with a damn good question, those stick around… But there are questions, there are answers, and the how you get from one to the other. And the ones that last are the questions and the how you got there. The answers themselves, as in a way that math teacher is saying, are more fungible. They're interchangeable and very different in intellectual styles and different contexts in which this set of answers will look better for a while than that set of answers. But the questions don't go away and the processes by which you get there by and large don't go away. So those are the stable elements in the business. The answers are far less interesting in the long run.

I am not a mathematician and have long preferred words to numbers. And still, I appreciate Smith's appreciation of spaces and systems that show the work. Some questions are easier to ask than others. Some answers are not our own. What kind of welcome will we extend for questions that need encouragement to find their way into the room? How much courage can we muster to release and relinquish that which no longer serves for all that remains to be imagined and innovated and iterated? Along the way may we never forget the cost—of the naming and of the not.
Listening. Learning. Loving. Leading. Each plays an active part in the work and witness of fellowship. What will it take to get not just from here to there, but to the place from which we can feel and know the relationship between the two? Mark Nepo asserts that "beneath every there is a here." Is that true? But perhaps more pressingly: is the truth claim the question? Or, does the practice of fellowship require a rethinking of the very premises and parameters and possibilities and powers through which we authorize ourselves, our truths, and one another?
It is my truth that love is required for the living of these days. I believe that leadership, too, is an act of love. Cornel West posits that we cannot lead those we do not love. Martin Luther King Jr. called for leaders "not in love with money but in love with justice; not in love with publicity but in love with humanity." This kind of love calls for seeds and solidarities and for the kind of rooted and righteous and rigorous accompaniment that digs beneath inherited surfaces and systems. How do I love thee? Let me move beyond counting to crucify and create in so many ways.
From creation to the crucible, leading in love requires the crossing of familiar thresholds in a give-and-take that goes the distance. In her letter to a beloved barrier island, North Carolina poet laureate Jaki Shelton Green describes a kind of love that travels.
… My Dear Ocracoke, I am writing to you because you must never think that I would run away from you now in these troubled times. I am here, your distant lover, committed to holding you now and forever through the thick and thin of it all. Your sunsets, your stray whispers, and our midnight full moon baths are all I need from you right now. I'm coming soon and I won't be surprised by all the lovers stroking your back… after all, it takes a village.

Forever, your distant lover,

Jaki Shelton Green

P.S. It is imperative that this letter be read while listening to Distant Lover by Marvin Gaye
Across time and space, I think about and pray on so many things even without Marvin Gaye playing in the background. I am always reminded of the commitments—some competing, some complementary—it takes to grow ourselves and one another. Practice makes not perfect or even progress, but possible. Will we learn in community and lead in fellowship? And if we did, what kind of people, places, and things might we nurture into being?
I believe formation grows us in the spaces and places where attention perks up and gets quiet. I believe this quiet speaks volumes. I believe living and learning and leading and liberating to be acts of sacred accompaniment—to see is to sense is to surrender is to sustain is to sacrifice is to stand in solidarity is to say something, to do something, to be something. For someone else. I believe that love requires first noticing the gap you might need to stand in before taking leap after leap of faith. I believe that humanity requires the kind of presence that honors the fullness of any experience—yours, mine, ours, theirs. I believe that leadership, fellowship, and scholarship have things to learn from one another. I believe we do, too.
If it is true, as Mary Oliver writes, that to pay attention is our endless and proper work, what am I attending to? What about you? What about one another and the other, too? Are we finding or faltering along or even flinging stones along the way? If rocks are living things, too, what are they teaching? The following object lessons from my world in Madison County, North Carolina are stepping stones for all kinds of learning. Sometimes, they are cornerstones and stumbling blocks for all kinds of unlearning, too.
In the small town of Mars Hill, people paint rocks and hide them for others to find. I don't know whether the purpose lies in the painting or in the hiding or the seeking or the finding. I do know the joy I experience in spying these gifts in unexpected places. I believe these rocks are waiting to be found. I believe these rocks connect me to those who painted them and to others who found them before me. I believe that keeping my eyes open is the first step along the way.
In a neighboring community, potter Josh Copus staged an oral history project in the rehabilitation of what locals call the old Marshall jail. Josh invited residents to tell their stories of living in and around this building to keep the inhabitants of this place—jailed and jailers alike—alive in more than just memory. These oral histories have been transcribed on bricks that line pathways and cover walls. If these walls could talk? They would speak truths about what it means to imprison ourselves and one another. They would remind us that some things, not all of them true, are sown into the very foundations of that which is towering and toppling still. They would say the names of those whose time was spent and suspended here. These bricks remind me of people everywhere who are still languishing behind bars.
In nearby Hot Springs, there is a pictograph called Paint Rock attributed to Native peoples who painted on cliffs near the water thousands of years ago. I have tried and tried again to locate these paintings. There are signs. There are descriptions. And still I cannot find my way there. I believe that not everything is for me to find. As a scholar of religion, I sit often with questions of access and power and of things too sacred for the uninitiated to behold. I believe there is a teaching in honoring that which is not mine to know.
All of these rocks come from and sit in places, including a home I am trying to make in a rural county with dueling reputations that have a lot to teach about this country's inborn dichotomies. Nicknamed "Bloody Madison" and the "Jewel of the Blue Ridge," some of this county's origin stories tell on one another. Madison County first earned its reputation in a legendary Civil War showdown that pitted neighbor against neighbor before leaving thirteen Union sympathizers dead. Almost 100 years later, a young Vista worker was brutally assaulted and murdered in a case that remains unsolved. Descendants of the slain and culpable are alive and well in this county where the perimeter of belonging is measured by the number of generations that count some in and others out. But the "Jewel of the Blue Ridge" is here, too. A rebranding rooted in mountaintop vistas, this metric forgoes a deep dive in favor of the casual drive-by. If we stick to the highways—of this, or any place—we might notice only the brave and the beautiful. But if home is where the heart is, what about the rest of the body? The underbelly is teaching, too. Will I have ears to hear? Will you? We will? Will they?
From eyes to ears from rocks to stones from beginning to return, some are moving on to their next question: What are my gifts? And where do they come from? What am I putting under wraps? And what will I unpack next? I believe that the work of fellowship is a labor of love that takes and makes all kinds of things. It is formation and foundation and habits and hearts pinched into pots and possibilities we hold in our hands. It is universal and unique. It is work, and sometimes it is wrong. And even when it's not? It is whatever you make of the relationship between yours, and mine, and ours, and theirs. And so, questions remain. They always will. Is all of this just enough to grow on? Can people, and places, and things sustain human life and longing and liberty and liberation?