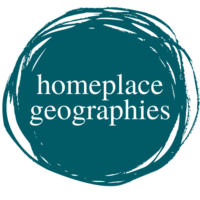 Jamestown Landmark Missionary Baptist Church sits in the long curve of the road as you head north from Batesville, Arkansas, into the Ozark foothills. Once you cross the White River—cattle to your right, a stand of corn to your left—climb the steep grade up Ramsey Mountain and turn right at the Triangle Café.  Drive along the bluff, past Southside's Assembly of God, farm supply stores, and the Harmon boys' homestead before turning left at the old cotton gin in Desha. Wind your way on the county road lined with limestone homes and churches. Coast downhill through Greenbrier Creek bottoms, lifting a few fingers in greeting when you meet wild turkey and tractors. The Ozarks will appear in the distance as you round a corner to see the Landmark Church that signals the final stretch to the gate. Pass the church on your right as you come to a four-way stop. Turn right to follow Jamestown Creek into the hills. When you see the old Vickers place on the left, the house tucked into the woods at the top of the hill, Herefords grazing in the field, you're almost there. Lean into the curve until you see a rust red farm gate on the left side of the road. Don't worry about the no trespassing sign. The combination to the padlock is 1949.
This road to the farm, with familiar landmarks and curves I can take with my eyes closed, is the main thoroughfare of my homeplace geography. A personal cartography that maps experiences and memories onto specific landscapes [1], homeplace geographies draw on the biographic and personal to house what Donald Davis calls life's "unforgotten images." [2] Mine comes to life in the stories I was raised on: stories about faith, family, and farming in the Ozark foothills. As I was neither born nor raised in Arkansas, the Natural State is more a cherished family hand-me-down than my own, and its mythology looms large. This is the land that my maternal fourth great grandfather John Worth Gray sought out on an 800-mile trek from High Point, North Carolina, to what later became Independence County, Arkansas. Seeking land and opportunity during the nineteenth-century gold rush, John Worth crossed the Cumberland Plateau and the Mississippi River in 1850, settling his family near a spring on Mount Tabor. John Worth built an exact replica of the family's High Point home on the Hickory Valley farm, transplanting North Carolina roots that flourished and multiplied in the Arkansas soil. My third great grandfather, Elisha Columbus, raised seventeen children in Hickory Valley, including my grandfather's grandfather, Christopher Columbus. His is the generation we commemorate at annual reunions with a family roll call that counts us by relation to the "original seventeen." The Grays provide fodder for countless stories about ancestors with colorful names and quirky traits. Family lore about Thornsberry Anderson, Queen Esther, Virgil Omega, and my own Christopher Columbus makes me heir to much more than a homeplace.
Appalachian writer James Still describes heritage as something we "cannot pass beyond." [3] For Still, "being of these hills" shapes life's contours and destinies. Former Kentucky poet laureate Jesse Stuart also proclaims the gospel of a hilltop homeplace, a "heritage of hills" rooted in "[the] high upheavaled ground … we've always known." [4] I, too, worship a hallowed ground, but I am not of its hills, nor have I always known them. Two generations off the farm, its stories are a birthright that shape the contours of how I know myself. Always circling, mine is a journey of eternal return, a mythical trajectory that calls me back to place time and again. Religion scholar Mircea Eliade spent his career exploring how time and place shape the myths and rituals that bring our worlds to life. While Eliade combed nineteenth and twentieth-century archives for the primitive­—searching for people and places "uncontaminated by time and becoming" [5]—I look closer to home. In my grandfather's practice of planting by the signs, I find remnants of a way of being and knowing that answers to the moon itself. Planting and fishing by lunar cycle, my grandfather honors that timing matters to the places we cultivate and inhabit. Looking to the stars to make a garden grow changes how you know your place in the world.
First look to the sky for guidance, then to the ground.
Watch and wait as the fruit bears.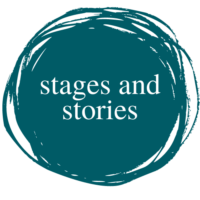 These storied Ozark roots prove hardy, tugging at me from a life lived elsewhere. In contrast to my preferred origin myth that places me on the family farm, my life maps a different world. Anthropologist Kenneth George describes lifeworlds as "the interconnected lived-in spaces that bring people—with their thoughts, experiences and sense of self—into reciprocal touch with global currents." [6] Mine begins on the banks of Cincinnati's Ohio River and extends across the George Washington Bridge that spans the mighty Hudson. Raised off Route 17 in Ridgewood, New Jersey, early childhood memories feature turnpike diners and Friendly's ice-cream, Harlem Baptist churches and kosher bagel shops. Weekend trips into the city made Central Park's Hans Christian Anderson statues a favorite jungle gym and family hikes on Bear Mountain followed Seven Lakes Drive, a winding country road that parallels the Appalachian Trail.
While my Arkansas imaginary speaks in stories, my childhood reverberates in song. The daughter of a pianist and an opera singer, I first stirred to the sounds of my parents practicing together. For years, my lullabies included Mozart and Verdi arias, art songs, Broadway show tunes, and classic Christian anthems: Hall Johnson's arrangement of "Ride on, King Jesus!" and Aaron Copeland's "Zion's Walls" competed with Frank Loesser's "Luck be a Lady," Mitch Leigh's "Man of La Mancha," and endless opera. My siblings and I sat on the front row when my parents performed, my mother minding us from the piano bench as we mouthed the lyrics to great theatrical effect. I remember my father singing at the Liederkranz in New York City, performing a concert staging of Richard Strauss' Daphne. In preparation, my parents told us the Greek myth, describing how Daphne would turn into a tree—if we were on our best behavior. This promised metamorphosis kept me riveted during the hours-long performance. When the soprano struck her final pose, assuming a tree-like stance that fell far short of any visible transformation, I was sorely disappointed. That night I learned important lessons about the parameters of performance and the limits of translation. Cultural theorist Edward Said reminds us to distinguish between what we know and the peoples and places made known on the world's many stages. [7] Sometimes, curtains mask the difference between knowledge and its production.
In my family's most spectacular performance, we moved to Germany after the fall of the Berlin Wall. Part of a small group of American artists heading East to replace Germans heading West, my father accepted a position as full-time opera singer in Neustrelitz, a small town in the lake district of Mecklenburg-Vorpommern. There, we found ourselves joining in the swan song of Cold War politics, bearing witness to the promises and failures of reunification. We quickly learned that "reunification" did not convey the experience of those for whom the long-awaited national reunion was more of an annexation or second Anschluss. When we arrived, Neustrelitz had a population of approximately 20,000 Germans and 40,000 Russian soldiers. Within one year, the Russian army would ship out, leaving empty blocks of crumbling housing and a socio-economic vacuum in its stead. As we learned a language grappling with its terrifying ability to speak the unspeakable into being—crossing impermeable thresholds with Paul Celan and contemplating the impossibilities of exile with Bertolt Brecht—we began to experience Germany's competing histories as they played out in one small town. In time, we learned that the white-washed walls crisscrossing town divided the Russian sectors from those displaced from their ancestral lands and neighborhoods. Contested territories—along with stories about the 681 suicides committed one night in 1945 when townspeople learned that Neustrelitz would fall to the Red Army—made clear why we didn't play with the Russian children who lived on our block. No one mentioned the town's approximately fifty Jewish residents murdered in the Holocaust.
Stories of war, occupation, and rehabilitation competed for inclusion in history's grand rewriting with winners and losers changing roles almost daily. In my first year at the local Gymnasium, our principal was fired for his active role in the Stasi, East Germany's infamous police regime known for its surveillance tactics that demanded the collusion of its citizenry. In addition to perpetual changes at the administrative level, our teachers rewrote curricula on the fly. History, economics, politics, and ethics all needed a new script. I used to beg one of our tutors—a retired English teacher who took on my siblings' German language skills as a personal project—to tell her family's story. Geopolitics necessitated the family's flight from their home in what was once Prussia to territory that became part of Poland before being annexed into the extended Third Reich. From her location in yet another former state, Tante Ille was living proof:
Family pictures from our early years in Germany capture worlds colliding: here we are in the basement of our first apartment building shoveling coal for the ancient limestone heaters that sat in the corner of each drafty, twelve-foot ceilinged room; this is my brother's kindergarten class—half of the children are still wearing their Jungpioneer uniforms from the GDR's compulsory children's organization; this is a picture of my siblings stemming berries from Tante Ille's carefully cultivated garden that produced fruits and vegetables to supplement what was available in local stores; our family portrait features classical statues from the town's Schlosspark, instead of a monument honoring Russia's war victims unceremoniously removed from the market square one day; here I am in music class, singing Russian folk songs, German art music, and American classics: "Country roads, take me home, to the place where I belong. West Virginia, mountain mama, take me home, country roads."
Singing John Denver's ode to a West Virginia homeplace in a country vanishing into its own nation state was deeply ironic. There were no roads that led to East Germany. Instead, updated maps pointed to neuen Bundesländer, the "new" states returned to their presumably proper place. Theorist Jonathon Z. Smith writes that "map is not territory," [8] distinguishing between emplaced realities and their representation. When we moved to Germany, I learned that representation is always incomplete and never impartial, mapping only one lay of the land instead of the messy layers that lurk above and below the surface. Increasingly aware that the word "former" did not adequately account for the tectonic shifts in East German statehood, I learned that maps fail.
As a teenager, I traipsed independently across Eastern Europe, coming into my own alongside a collective sense of loss that accompanied East Germany's dissolution. Adopting a displaced Heimat, I found myself in what East German author Christa Wolf describes as an "in-between place," [9] where what remains is Ostalgie [10]—a longing particular to those remembering and memorializing a former way of being, knowing, and being known.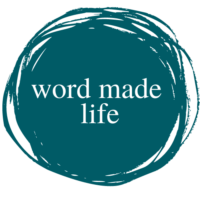 In an attempt to make legible my competing heritages and the stories they inspire, I turn to those who refuse ready distinctions between insiders and outsiders, selves and others, histories and myths, between somewhere and nowhere. Cultural anthropologist Jonathan Boyarin calls attention to the overlapping, multi-dimensional spheres that create "our own confused invention." [11] For Boyarin, distinctions between "me" and "you" unfold on a spectrum of difference and exclusion that defines the worlds we bring to life. Mindful of the "others within and others without," Boyarin asks us to cross both time and space to "permit the past to confront our blinders with its own account of the present." [12]
My blind spots emanate from and produce multiple imaginaries: Jamestown, Arkansas, and the German Democratic Republic compete for my attention and narrative voice. Nostalgia and Ostalgie both make real the mythical places [13] where my lifeworlds "work their magic—and exact their demands." [14] At the crossroad of time and place, I look to the far corners of what I know to find a common ground where rural Americana and the Iron Curtain meet. In Appalachia, a storied region long described as in but not of America, I found myself mesmerized by the contradictions of holler holiness. [15] Relegated to the margins of history's grand narratives—alongside the family farm and small towns in a former Soviet-bloc country—Appalachia serves as proof-text to one telling of my mythologized lifestory. Eliade reminds us that the myths we attribute to distant times and places survive in the daily living of life itself. [16] Calling for an awakening to the rituals and stories that become the breath and bone bridging past, present, and future, Eliade lays bare the project of self-fashioning at the core of my own insistent grappling. [17] Appalachianist Barbara Ellen Smith uses different language to locate the past as "our home" and "historiography [as] our difficult, sometimes contentious effort to return." [18]
Eyes fixed on the horizon, I look for the competing geographies that beckon – ever present – always out of reach.
My curated cartography maps real, imagined, and disappeared places. The intentional choice to privilege the Ozarks and East Germany as main characters in my lifestory, instead of suburban New Jersey or my father's hometown of Atlanta, reveals an editorial process through which I stake my claims. Womanist scholar Layli Maparayan distinguishes between the practice of "standing-in" and "flying over," two positions that require us to name, choose, and act on our priorities. For Maparayan, standing-in means "being present as … both 'an insider' and 'the opposition' … with the larger aim of change from within." [19] Flying-over skips "the intervening steps of tediously unpacking everything," allowing us to "jump into" the conversations at hand. [20] Standing-in my "ex-center," [21] a positional crossroad blurred by the lure of each cardinal direction, I tell stories about storytelling. I fly over monuments to teleologies and truth claims.
The "blank space" [22] from which I write is densely scripted—each word both product of and homage to the histories and traces of people and places who have come before [23]. Taking stock, I weigh deeply evocative rural mythologies against the presumed order of things to take on the stories through which I imagine myself home. Employing an Arkansas hermeneutic forged in a shuttered East German factory, I grapple with the politics of place-making and find my way back to Jamestown's Landmark Missionary Baptist Church. An unassuming wooden building tucked into a gravel parking lot surrounded by large shade trees, the church sits empty except for Wednesday evenings and Sunday mornings when the dwindling congregation gathers for services. This is the church where my grandparents were baptized and where my mother learned to play seven-shape gospel piano to accompany hymns that proclaim, "I know whom I have believeth." My writing draws inspiration from a lifetime of stories told about this particular country church. I go to Jamestown to commune with the gods, but Jamestown Missionary Baptist doesn't tell my story. It is not the church I enter. I don't even linger on its threshold. Instead, it is a sign, a landmark that points me on my way elsewhere, a narrative device in my own quest for meaning-making.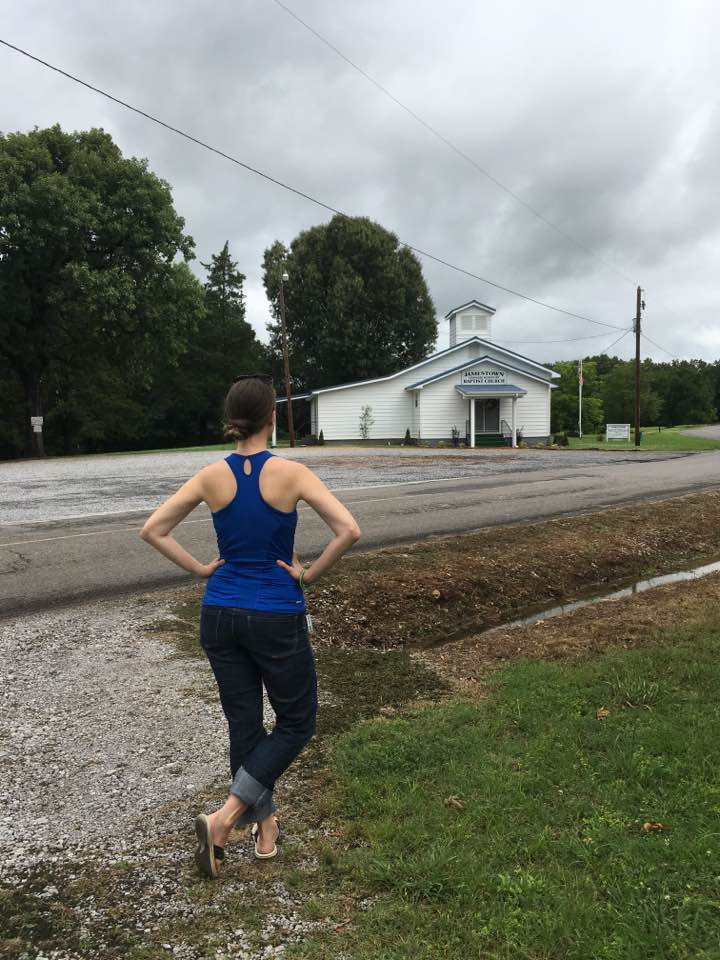 If I began as an Arkansas Traveler, a character in the popular nineteenth-century vaudeville act that pits local yokel against city slicker, somewhere along the way I made a Faustian bargain. Haggling for the tree of knowledge, the terms of my contract remain vague; I might be writing a new script altogether.
[1] Donald Edward Davis, Homeplace Geography: Essays for Appalachia (Macon, GA: Mercer University Press, 2006), 14–16. [2] Ibid., 16. [3] James Still, "Heritage," in Appalachia Inside Out: Volume II Culture and Custom, ed. Robert J. Higgs, Ambrose N. Manning, and Jim Wayne Miller (Knoxville: University Tennessee Press, 1995), 741. [4] Jesse Stuart, "Our Heritage," in Appalachia Inside Out: Volume II Culture and Custom, ed. Robert J. Higgs, Ambrose N. Manning, and Jim Wayne Miller (Knoxville: University of Tennessee Press, 1995), 739–41. [5] Mircea Eliade, The Myth of the Eternal Return: Cosmos and History, trans. Willard R. Trask (Princeton, NJ: Princeton University Press, 2005), 89. [6] Kenneth M. George, Picturing Islam: Art and Ethics in a Muslim Lifeworld (Malden, MA: Wiley-Blackwell, 2011), 4–5. [7] Edward W. Said, Orientalism (New York, NY: Vintage, 1979). [8] Jonathan Z. Smith, Map Is Not Territory: Studies in the History of Religions (Chicago, IL: University of Chicago Press, 1978). [9] Stephani Richards-Wilson, "Cry Wolf? Encounter Controversy: Christa Wolf's Legacy in Light of the Literature Debate," New German Review: A Journal of Germanic Studies 24, no. 1 (February 3, 2011). [10] Dominic Boyer, "Ostalgie and the Politics of the Future in Eastern Germany," Public Culture 18, no. 49 (Spring 2006): 361–81. [11] Jonathan Boyarin, Storm from Paradise: The Politics of Jewish Memory (Minneapolis: University of Minnesota Press, 1992), 78. [12] Ibid., 50–51. [13] Rob Sullivan, Geography Speaks: Performative Aspects of Geography (Surrey, England: Ashgate, 2011). [14] George, Picturing Islam, 4–5. [15] See, "The Centre Cannot Hold," W.B. Yeats, Michael Robartes and the Dancer (Churchtown, Dundrum: Cuala Press, 1920). [16] Eliade, The Myth of the Eternal Return, 135. [17] Mircea Eliade, Myth and Reality, trans. Willard R. Trask (Long Grove, IL: Waveland Press, 1963), 113, 134–38. [18] Barbara Ellen Smith, "Legends of the Fall: Contesting Economic History," in Christianity in Appalachia: Profiles in Regional Pluralism, ed. Bill J. Leonard (Knoxville: University of Tennessee Press, 1999), 14. [19] Layli Maparyan, The Womanist Idea (New York, NY: Routledge, 2012), 70–71. [20] Ibid., 74–75. [21] Vincent L. Wimbush, "Introduction: Knowing Ex-Centrics/Ex-Centric Knowing," in MisReading America: Scriptures and Difference (New York, NY: Oxford University Press, 2013), 1–22. [22] Michel Foucault, The Archaeology of Knowledge and the Discourse on Language, trans. A.M. Sheridan Smith (New York, NY: Pantheon Books, 1972), 17. [23] Antonio Gramsci, "Culture and Ideological Hegemony," in Culture and Society: Contemporary Debates, ed. Jeffrey C. Alexander and Steven Seidman (New York, NY: Cambridge University Press, 1990), 48.